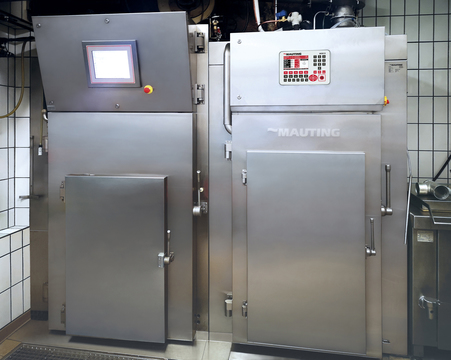 Ideal unit for smaller plants - UKM Compact
Austrian customer decided to complete the production with the same type of the chamber as he had for a few eyers before. Based on the references and the quality/price ratio he purchased the UKM Compact equipment and give the priority to Mauting over the existing competitive equipment.
The installation has been realized in Italy, the south of Tyrolia.
The main selection criterion for the purchase of a new chamber was the price-quility ratio and he ordered the Mauting UKM Compact. The customer has the opportunity to compare both equipments. He is satisfied with our chamber. The fact is the installation of the same type the chamber in another plant. 
Smoke chamber UKM Compact is suitable for smaller plants, large kitchens and restaurants and suitable for processing all kinds of butcher products such as sausages, meats, poultry, fish and cheese.