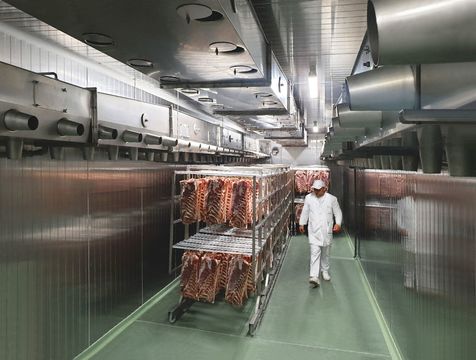 MAUTING technology at the client in Bosnia and Herzegovina
The Tulumovic company, the traditional producer of meat products, for whom the quality is the priority, has chosen the MAUTING equipment for their production.  Satisfaction of the client has been proven by several phases of installation of KMD maturing chambers, KMZ fermentation chambers, UKM smoking chambers, ZKM chilling chambers and KMR defrosting chambers within last four years. Up to now we have delivered to the client the maturing and fermentation equipment with  DAF and CrossFlow intermittent air flow systems with capacity of almost 600 trolleys.   
In case of DAF system, where there is a vertical and a horizontal phase, the air amount from the left and right side fluently changes from the minimum to the maximum. This system is suitable for KMD maturing chambers with the size up to 6 rows. 
The CrossFlow system has an advantage, the principle of which is alternation of the air flow directions down from top and the other way round. This system is suitable for chambers with the width of 7 and more rows, for products with high dehumidification and for trolleys higher than 2 m.  
Four-trolley smoking chambers, which were installed in 2019, serve for treatment of meat products as frankfurters, sausages, salamis and meats. It is the most successful product in the MAUTING model family. Each trolly has its own fan and heating exchangers are located inside the chamber. Thus the minimal energetic losses are guaranteed.
Complex of the MAUTING equipment contributes the forementioned foreign company to fulfil the high standard of production of wide range of products and covers most of the treatment processes from raw material defrosting to fermentation, heating processing and cooling eventually.  
And this is not the end, we are going on in the plant modernization also this year, at the moment we are installing next deliveries of maturing chambers and the plan is to extend the plant with further big equipment.